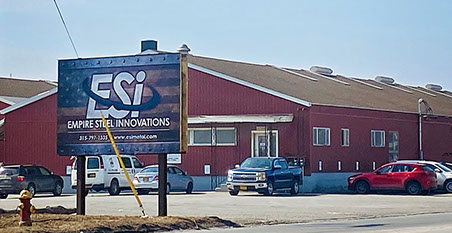 Nathan Steel, Inc. Acquires Crown Precision Components, Changes Name to Empire Steel Innovations
Nathan Steel, Inc., 36 Wurz Ave., Utica, part of the Empire Recycling Family of Companies, has acquired Crown Precision Components of Penn Yan, and is now known as Empire Steel Innovations (ESi, Inc.) to reflect the increased capabilities and future growth.
Once focused primarily on structural steel fabrication ESi, Inc. is expanding its customer offerings to include custom sheet metal fabrication and highly detailed metal finishing.
In addition to the company acquisition, ESi has embarked on a major capital improvement project and has added a 2021 state-of-the-art laser cutting machine with speeds capable of 5000+ inches per minute, a 50-ton turret punch for cutting and punching all forms of steel and aluminum sheets, and are creating a cutting-edge office environment, meeting center, and a modern-day production floor. ESi also has also brought on additional highly-skilled production team members and expect to add more in the coming months.
With on-staff designers, certified welders and fabricators, ESi is now able to handle both structural and finished metalwork from design to installation covering most of Upstate New York.
Empire Steel Innovations is part of the Empire Recycling family of Companies, which also includes Empire Recycling Corporation, ConfiData, SMR Fibre, ERC Transportation, Truck63 Fleet Maintenance, and ERL Intermodal.
ConfiData Adds Mobile Hard Drive Shredding Services
Utica, New York – ConfiData Document Destruction announces the addition of a 2021 Freightliner Mobile Shred Truck with an installed Alpine 395 Hard Drive Shredder. This truck will shred up to 7,500 pounds of paper per hour, but also has the unique ability to shred hard drives and other computer media, onsite, at customers locations.
This new mobile shred truck is capable of destroying up to 16 hard drives per minute, along with CDs, DVDs and other media storage disks. There is absolutely no way to recover the hard drive once it has gone through the mobile hard drive shredder, removing any risk of identity theft as well as assuring businesses stay in compliance with strict regulations on data security, environmental requirements, and to protect data from malicious hackers.
Some companies now require hard drives and media to be shredded before it even leaves their premises due to the secure nature of the data, and ConfiData is one of the first in the region to offer mobile hard drive destruction. To learn more, visit www.confidata.com or call 800-62-SHRED.
Confidata Document Destruction is a member of the Empire Recycling Family of Companies, which also includes Empire Recycling Corporation, ConfiData, SMR Fibre, ERC Transportation, Truck63 Fleet Maintenance, ERL Intermodal, and Empire Steel Innovations.
Empire Recycling to Premiere Original Short Film Showcasing Earth Day Collaboration with Sculpture Space
On Thursday, October 24, 2019 at 5:30pm, Empire Recycling will be hosting a premier of their new short film "Earth Day" at Munson-Williams-Proctor Arts Institute's auditorium. The film celebrates the longstanding partnership between Empire and Sculpture Space in transforming scrap metal into art.
Each year for close to 20 years, Empire Recycling has invited artists from Sculpture Space to their yard in Utica on Earth Day. Eight artists search the yard to carefully select various metal and material they will transform into a piece of art and then auctioned off as the "Earth Day Collection" at Sculpture Space's popular CHAIRity Auction each fall. Dozens of pieces have been created over the years and have raised tens of thousands of dollars for the unique artist-in-residence program.
The short film "Earth Day" follows local husband and wife artists Patrick Cuffe and Aimee Tarasek for just over six months – from selection of material on Earth Day, to an insider view of their creative process and fabrication of the pieces in their studio, to the CHAIRity Auction itself and finally to the homes of the buyers where both pieces now live - showcasing the full span and impact of the project.
The film is 16 minutes long and will be followed by a panel discussion with Empire president Steven Kowalsky and Sculpture Space executive director Tom Montan, along with artists Patrick Cuffe and Aimee Tarasek. The event is FREE and open to the public, but seating is limited.
Steven repeatedly reminds us, "every day is earth day" when you're in the scrap metal industry, but this film celebrates how the forging of a very special relationship can elevate Earth Day to encompass the environment AND the arts.
Empire Recycling receives special recognition
from Deputy Minority Leader Griffo
MAY 2, 2019 - During a ceremony today at Empire Recycling's Utica facility, New York State Senate Deputy Minority Leader Joseph Griffo, R-I-C-Rome, presented Empire Recycling officials with a New York State Senate Empire Award.
The Empire Award honors businesses that are leaders in their industry, use innovative methods or products, increase jobs and economic growth and make significant community contributions that affect New York State.
Founded in 1916 by Robert, Morton and Louis Kowalsky, Empire Recycling has grown into one of the nation's largest family-owned recycling centers for metals and paper. The Empire family of companies, which includes ConfiData, SMR Fibre, ERL Intermodal, Nathan Steel, and ERC Transportation, now employs more than 200 people in the Mohawk Valley and in 11 divisions across the state. Today, the company is run by brothers Steven and Edward Kowalsky.
Deputy Minority Leader Griffo said, "It is with great pleasure that I am able to present Empire Recycling with a New York State Empire Award in recognition of the company's impact on the Mohawk Valley and New York State. Since its inception more than 100 years ago, the family-operated business has grown into one of the largest recycling centers for paper and metals in the country. The company employs several hundred people and supports a variety of important organizations, events and causes in the community and beyond."
"It's an honor to be presented with this award," says Steven Kowalsky, CEO of Empire Recycling. "This company has been a part of my family for 103 years, and I am very blessed to have an incredible team of employees who share so many of the same values as my brother and I - they are the driving force behind everything we do."